Armenia in 1 Week
It's the perfect summer trip: see the sites, meet new people, have some kick-ass food, and discover a new culture in this undiscovered travel destination. Here's how we did it in only 1 week.
If you're on a mobile device, you can click here to visit our mobile-friendly version https://www.tripoto.com/trip/armenia-in-1-week-57aa86392b642
Day 1: Yerevan
We spent our first day in the capital city of Armenia, enjoying the amazing array of history, cultural sites, great views, and amazing food that the city has to offer. Sites include Armenian Genocide Memorial, Cafesjian Center for the Arts, Mother Armenia Statue, Vernissage, Gumi Shuka Market, and Holy Mother of God Church. Hover on each photo for more information on desktop site.
Tsitsernakaberd Armenian Genocide Memorial Complex
You can't go to Armenia without commemorating one of the most tragic and influential events in the country's history. Learn the story at the Genocide Museum, and feel the strength and resilience of Armenia's spirit when you visit the memorial.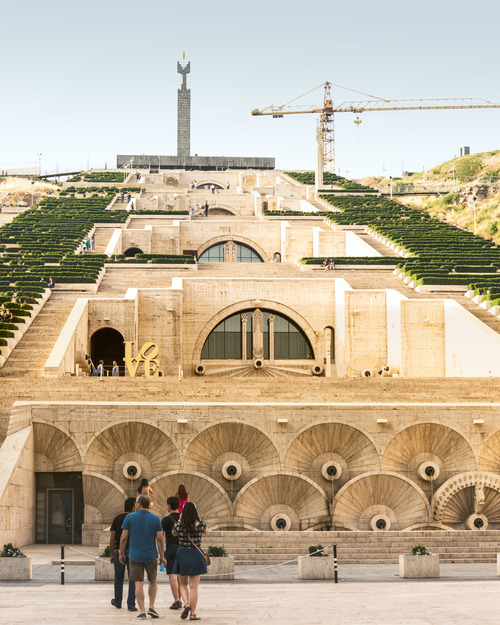 Cafesjian Center for the Arts
See the unique modern art in Armenia in this five-level Soviet-Era structure that was renovated in 2009 and reborn as the most important contemporary art museum in Armenia.
Mother Armenia Monument
Visit Victory Park, named for Armenia's participation in World War II, to see the most well known statue of Mother Armenia. It was originally built in 1950 as a statue of Stalin, but in 1962, it was taken down for "repairs" and, coincidentally came back as Mother Armenia.
Vernissage Market
A great place to shop for souvenirs where you'll find everything from patriotic t-shirts to paintings, rugs, vintage soviet medals, and handmade dolls in traditional dress.
Gumi Shuka Food Market
The Gumi Shuka food market offers a dizzying array of everything from spices to dried fruits to fresh meat and cheese. The vendors are extremely friendly, and will be more than happy to let you sample their food as you walk through, and probably tell you when and where they picked it from their fields.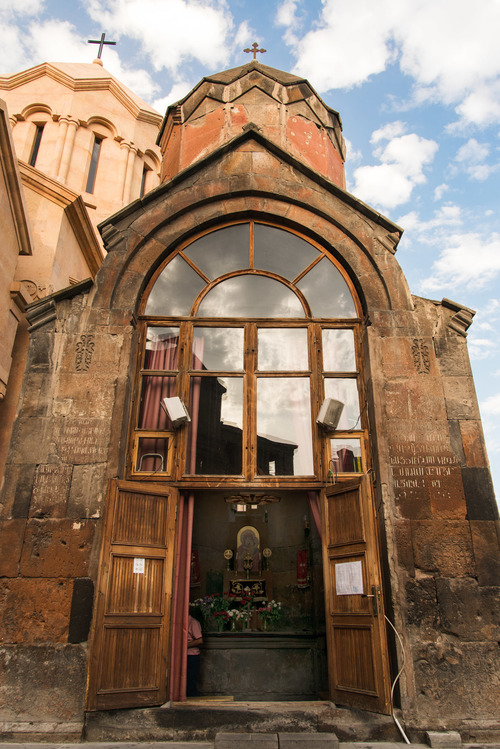 Holy Mother of God Church
An interesting juxtaposition of ancient and modern, with the 2009 St. Anna Church towering over the 1264 Holy Mother of God church.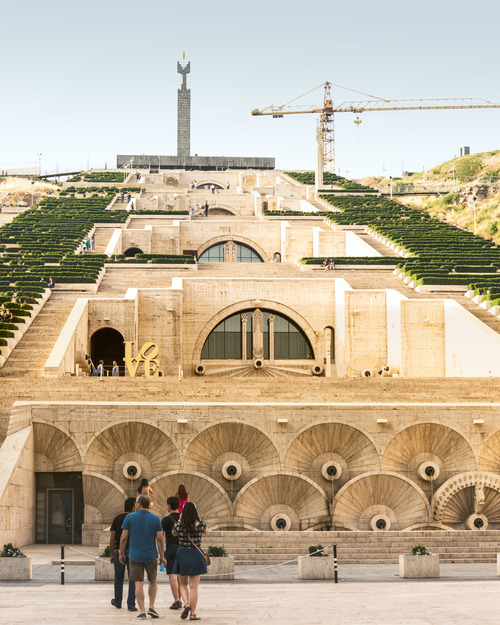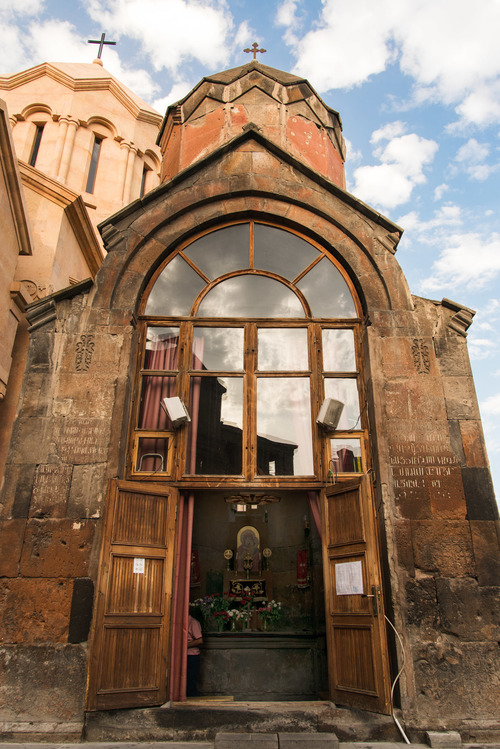 Day 2: Yerevan
Sites on day two include Echmiadzin, Zvartnots, Garni, and Geghard. Hover on each photo for more information on desktop site.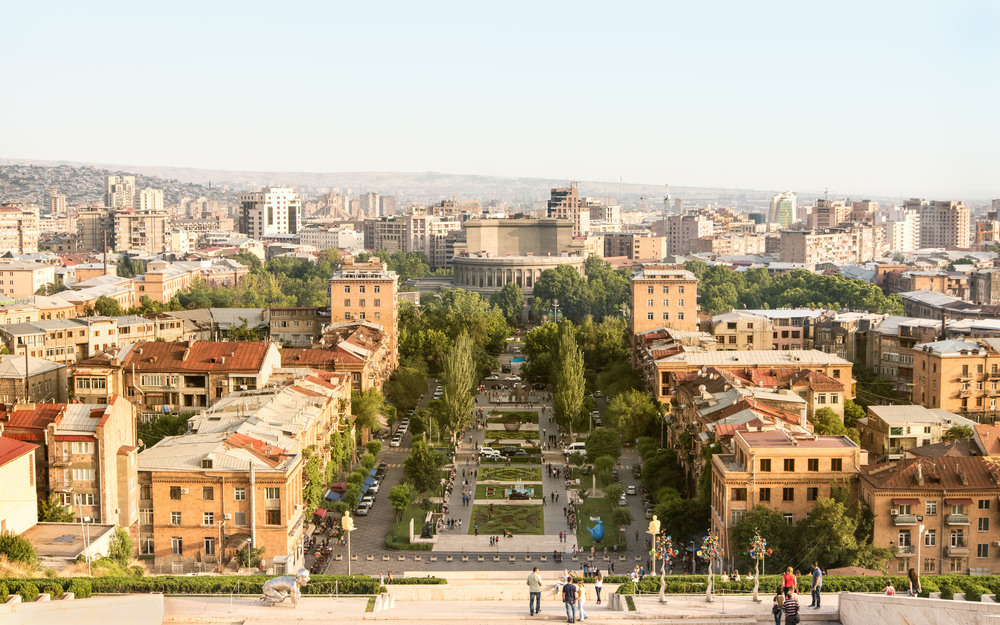 View of the City from the Cascade Complex
In addition to housing contemporary art, the Cafesjian complex offers gorgeous views of Yerevan's Tamanyan Street.
Echmiadzin
No visit to Armenia is complete without a visit to Echmiadzin, the center of the Armenian Church. Construction on the first church in Armenia began here in 301 AD, the year when Armenia became the first Christian country.
Zvartnots Cathedral
Armenia is a land full of churches, but Zvartnots Cathedral, built in 643 AD, is unique for its circular shape. Although it is ruined, many of the details, including columns and arches, survive. It is one of Armenia's popular tourist sites.
Geghard Monastery
Geghard Monastery is known for its chapels and tombs that are cut into the mountain, and is a UNESCO World Heritage Site. The main chapel is said to have the best acoustics in the world.
Garni Temple
After visiting churches, take a trip back in time to Armenia's pagan days at Garni Temple. This iconic site is from 77 AD, and shows Armenia's importance as a place of cultural exchange with its Greco-Roman style. It is also the only Armenian pagan temple that survives today.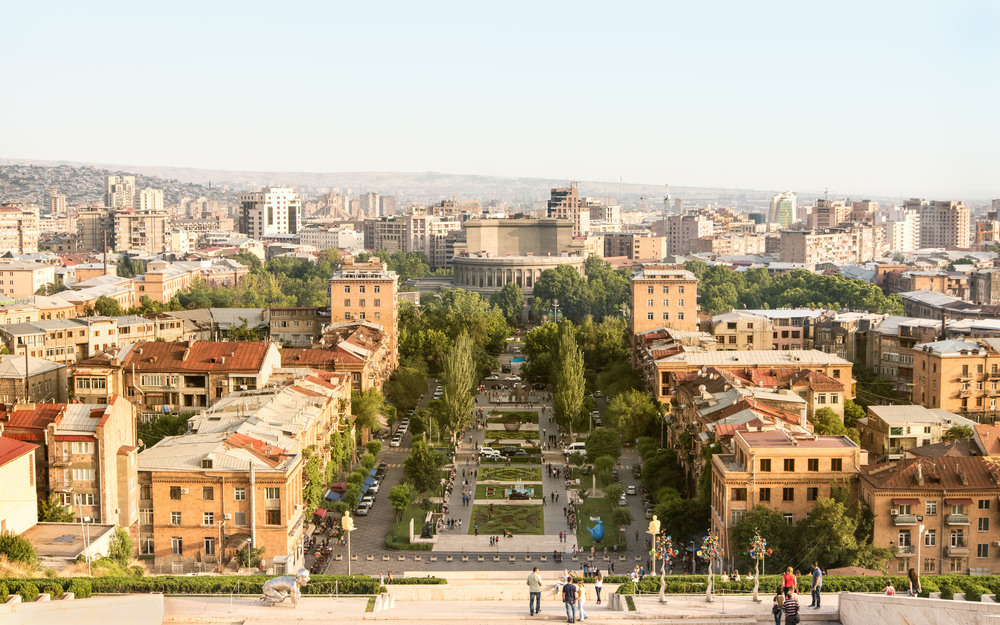 Day 3: Yerevan → Dilijan
Sites include the Armenian Alphabet Park, Amberd Fortress, Mount Aragats, Haghpat Monastery Complex, and Dilijan. Hover on each photo for more information on desktop site.
Alphabet Park
The Alphabet Park was constructed for the 1600th birthday of the Armenian alphabet in 2005. This monument gives you just a little bit of an idea of the pride Armenians have in their alphabet, which was created by St. Mesrob Mashtots in 405 AD. It is believed to have been revealed by God, and the church still considers the Armenian language to be sacred today.
Amberd Fortress
Amberd Fortress, 7th century AD, sits on a site on Mt. Aragats occupied continuously since the Stone Age. It was sacked by the Mongols in 1236 AD. The ribbons of colorful fabric tied to bushes and trees are another way of expressing Armenian spiritualism through wishes and blessings left by visitors.
Mt. Aragats
Drive to the top of Mt. Aragats, 13,419 feet, to find the only place to eat the famous Armenian Khash in the summer. But bring a jacket, especially if you want to sit outside next to the windswept Kari Lake.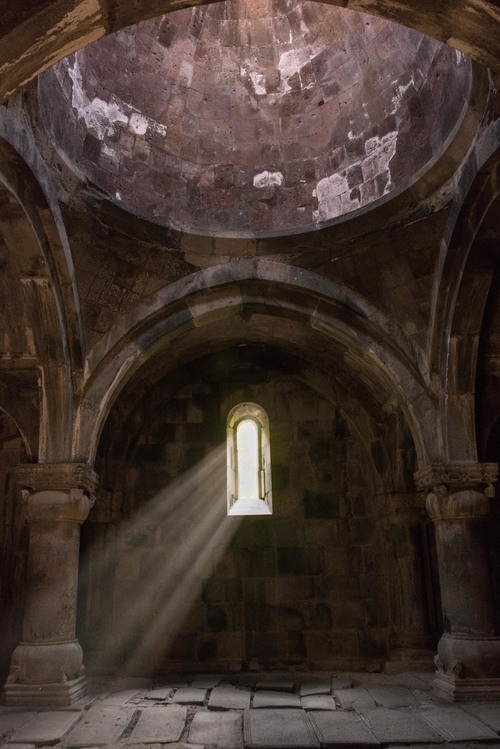 Haghpat Monastery
Haghpat Monastery, 10th century, is a UNESCO world Heritage site. It was founded by Queen Khosrovanuysh, and was purposely hidden on the side of the hill to offer it greater privacy and protection.
Dilijan
Drive into Dilijan to enjoy the last few hours of the day in the "Little Switzerland" of Armenia. You can visit historic Sharambeyan Street to see examples of old Armenian architecture and visit shops to buy handmade crafts.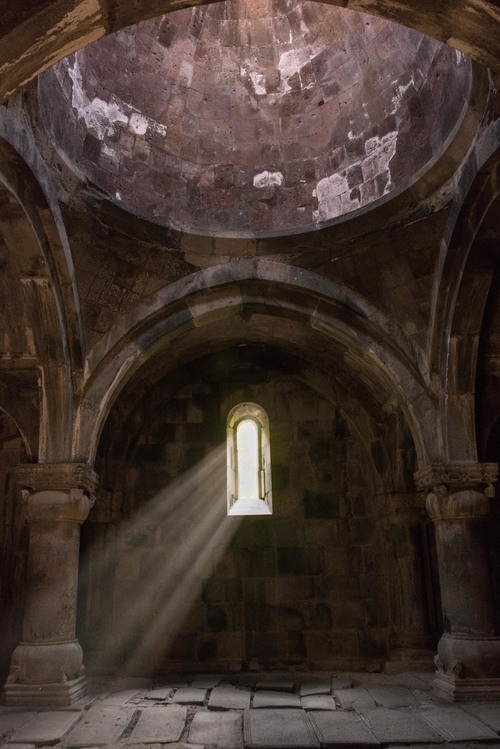 Day 4: Dilijan → Hermon
Sites include Lake Sevan, Sevanavank Monastery, Noratus Cemetery, Selim Caravanserai, Yeghegis Jewish Cemetery, and Lucytour Hotel. Hover on each photo for more information on desktop site.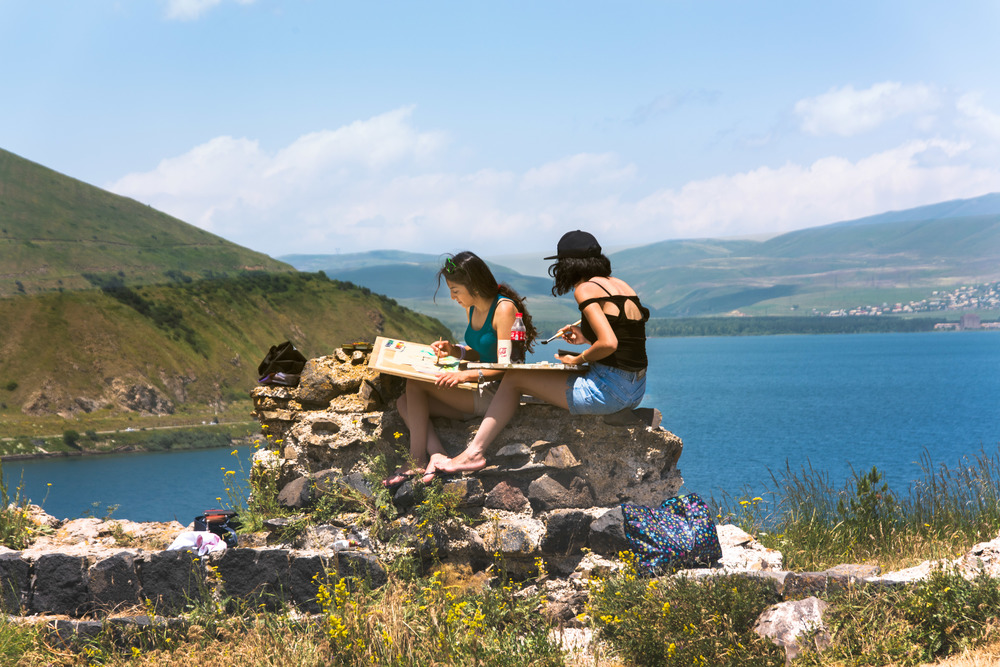 Lake Sevan
Get some sun, see stunning views, and visit another ancient monastery at Lake Sevan, Armenia's favorite beach destination. It is a favorite place for both tourists and artists, and it also has a few good bakeries around it, where you can try Armenian gata and baklava.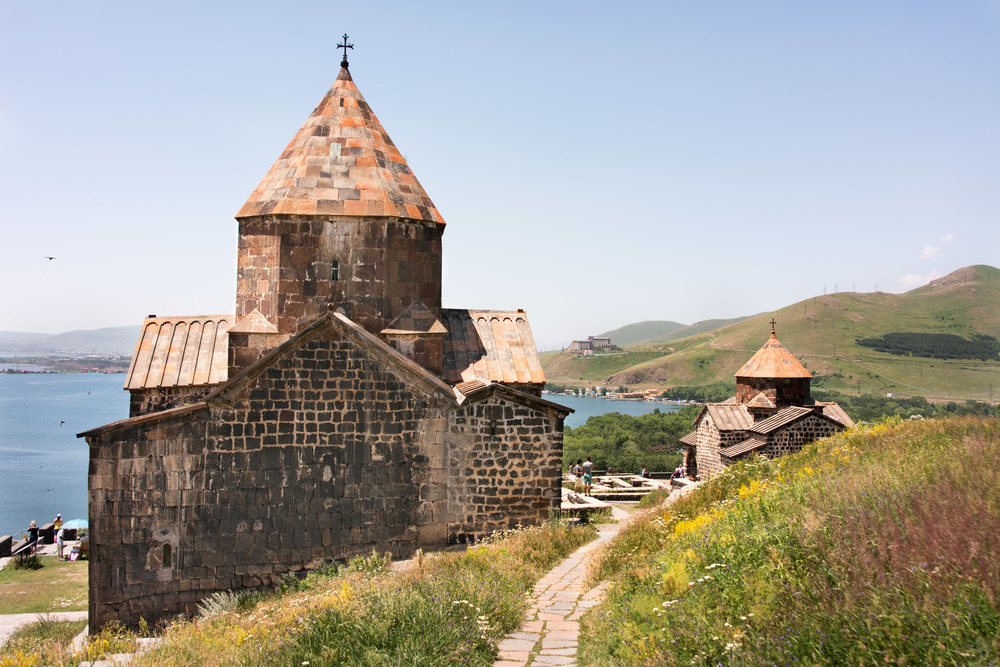 Sevanavank Monastery
Sevanavank is a 9th century monastery on the shores of Lake Sevan.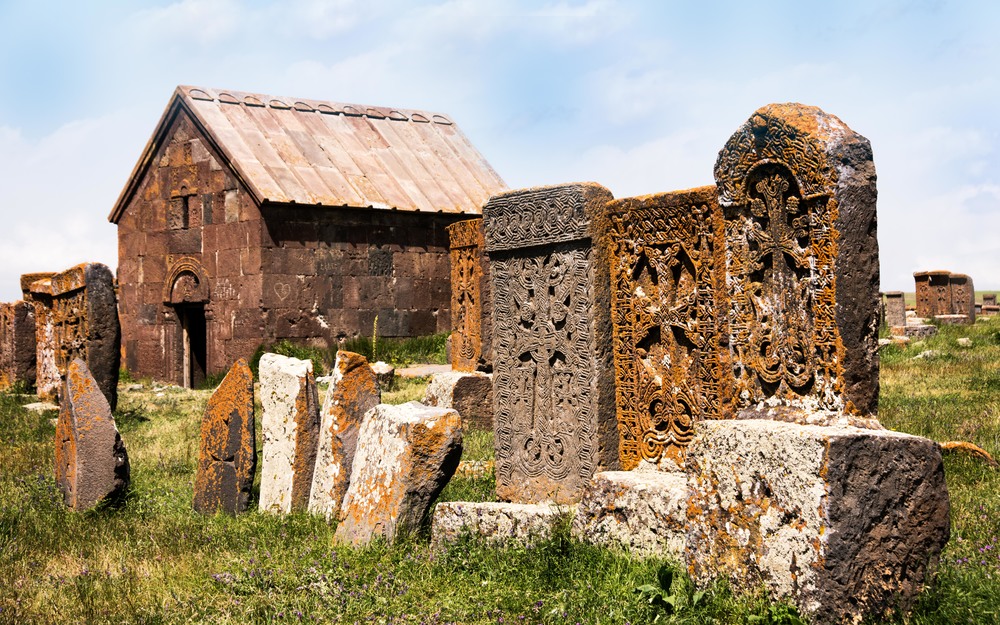 Noratus Cemetery
Noratus Cemetery has nearly one thousand khachkars, or carved tombstones, the oldest from the 10th century. Since the ancient khachkars of historically Armenian Julfa were destroyed by the Azerbaijani government to the dismay of UNESCO, this is the largest group that remains in Armenia. Besides the lovely flowering crosses, some khachkars depict wedding celebrations or scenes of village life, offering a glimpse into private life in ancient times. The broken bottles you may see are not evidence of vandalism, but a practice of mysticism involving a saint and a ritual for overcoming your fears.
Selim Caravanserai
Orbelian's Caravanserai, also known as Selim Caravanserai, was built in 1332 by Prince Chesar Orbelian as accommodation for merchants and travelers making their way through the rugged mountains of Armenia. It also offers more stunning views of the Armenian mountains.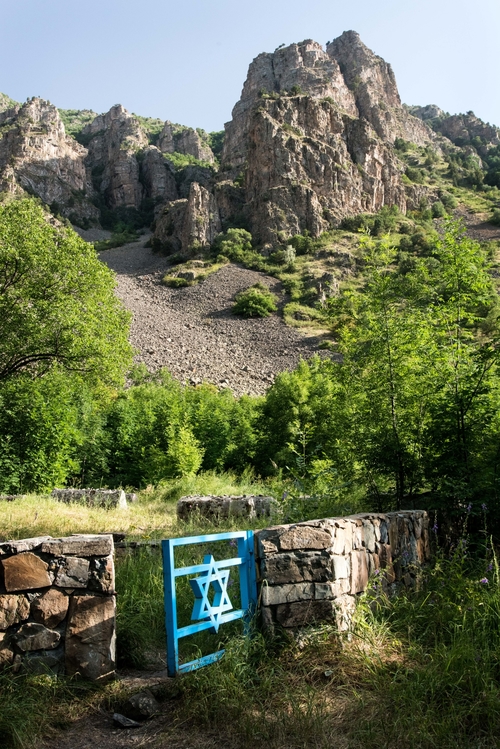 Yeghegis Jewish Cemetery
This is the entrance to Yeghegis Jewish Cemetery where gravestones with Hebrew inscriptions date from 1266. The site is lovely and peaceful, with light falling softly on the base of the rugged hills towering above, reminding one of the majesty and beauty of creation.
LucyTour Resort, Hermon
Spend a relaxing night at the LucyTour resort in Hermon. Participate in making a traditional Armenian khorovats (barbecue), explore the flower gardens, and enjoy teas by the campfire at night.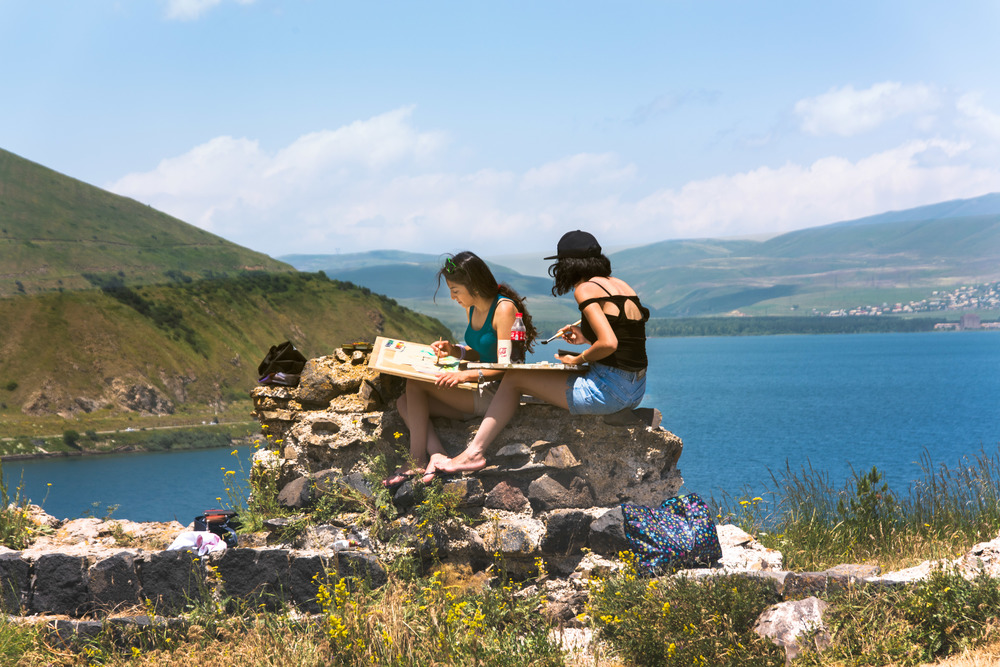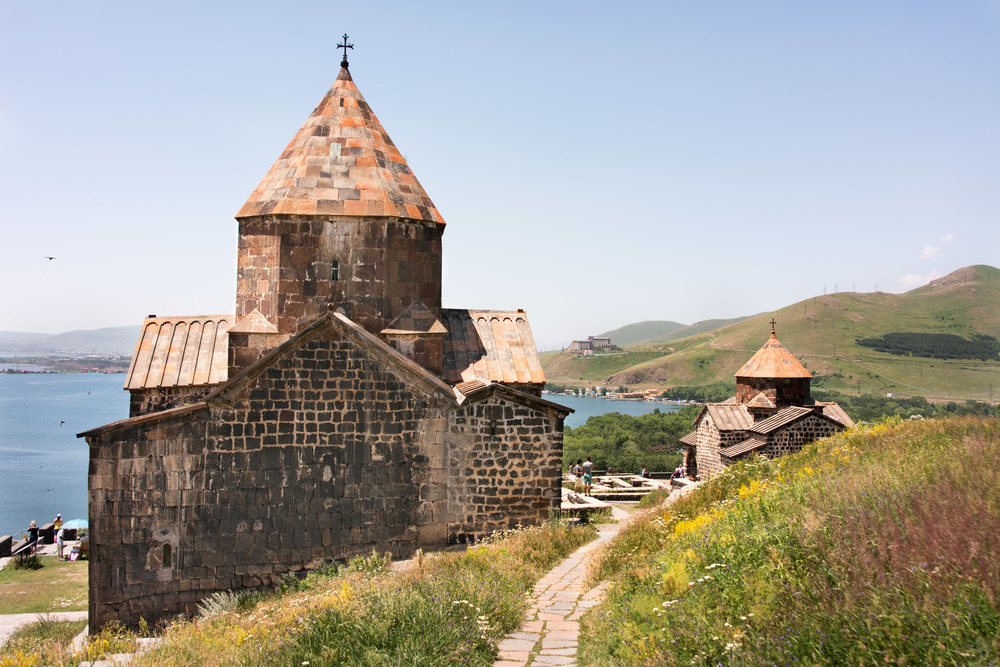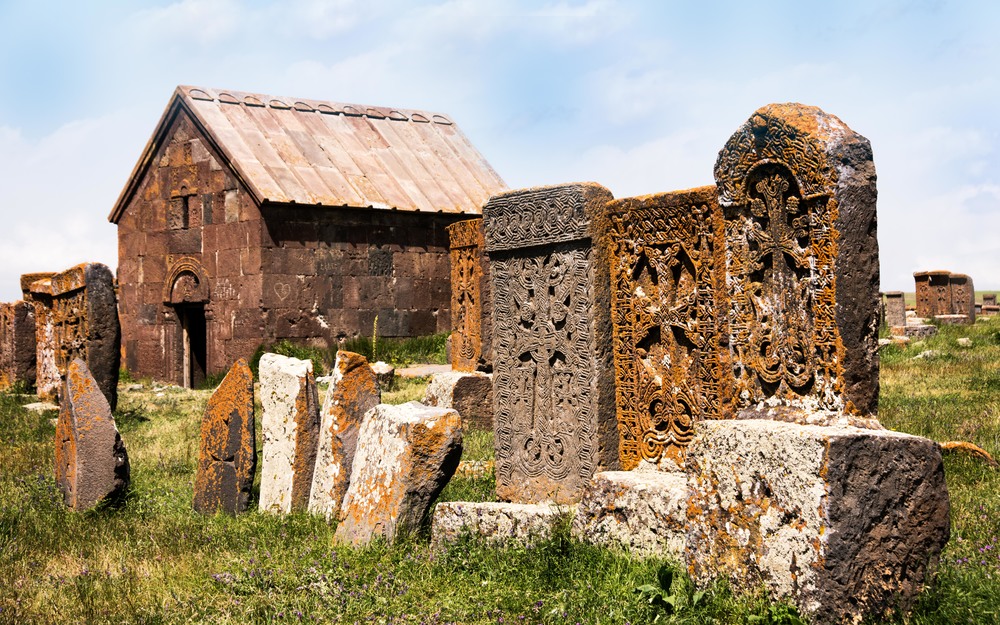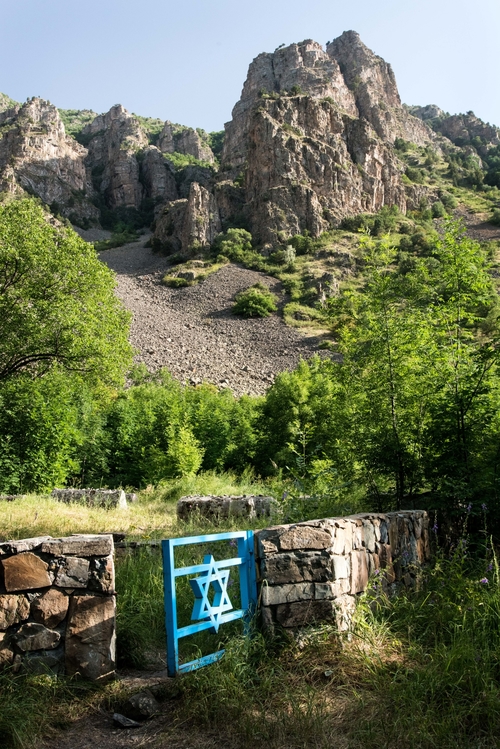 Day 5: Hermon → Stepanakert
Sites on day five include Tatev Monastery, Khndzoresk Cave Village, Gandzasar Monastery, and Stepanakert. Hover on each photo for more information on desktop site. The Nagorno Karabakh Republic remains unrecognized by much of the world, including Google which offers only inaccurate and outdated maps. For more accurate information go to www.justiceforartsakh.weebly.com.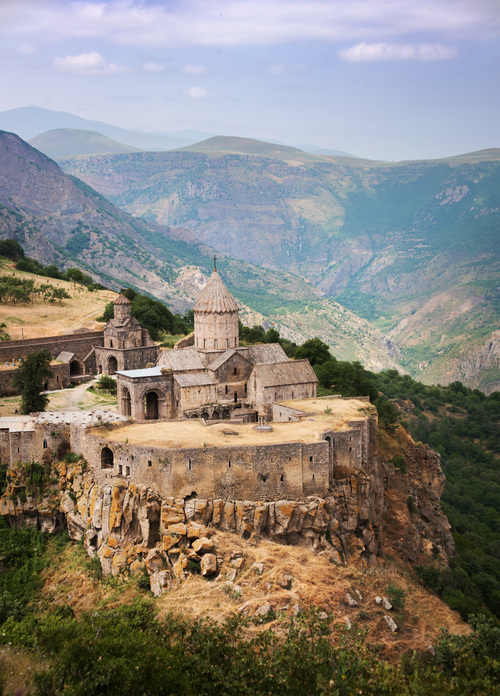 Tatev Monastery
Tatev Monastery is one of the most iconic sites in Armenia. Sitting on a plateau on the middle of the mountains, it is best reached by the Wings of Tatev aerial tram, which gives beautiful views of the surrounding area. If you want to be adventurous, like we were, you can also see the site from a new perspective by riding in a self-driving Soviet truck.
Khndzoresk Cave Village
Khndzoresk, located on the steep slopes of Khor Dzor, or deep gorge, is an ancient village where people lived in caves from the middle ages until the 1950s, when residents were forced out by the Soviets. The only entrance is a suspension bridge where you can see the gorge below you. Ask for the Nine Children Fountain and hear the legend of Sona, one of the women who fought side by side with the men to defend their homes from one of the many armed hordes of foreign invaders trying to colonize Armenia.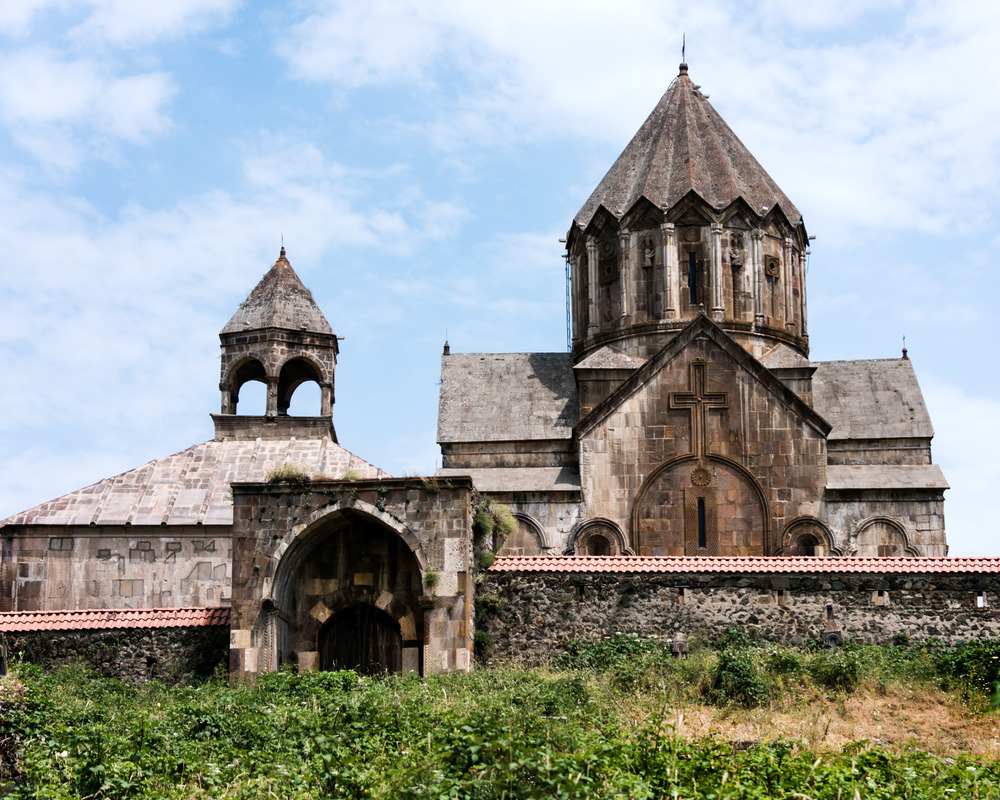 Gandzasar Monastery
Crossing over the border with the Nagorno Karabakh Republic, we visited the 13th century monastery of Gandzasar. It is a functioning monastery, and you will see its beautiful chapels in use for services, sacraments, meditation, and prayer. Stone carving is an especially developed art among Armenian artisans, and it is diverse and lovely here at Gandzasar.
Stepanakert
Spend your afternoon in Stepanakert, the capitol city of the Nagorno Karabakh Republic. This country was born in a battle for self-determination and survival which ended in 1994, and though the scars of war can still be seen throughout the country, Stepanakert is a perfect example of the success that the people of the NKR have had in becoming a thriving modern society.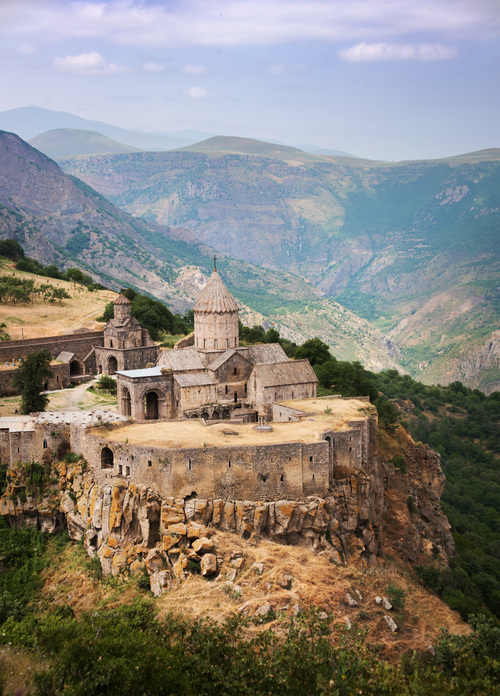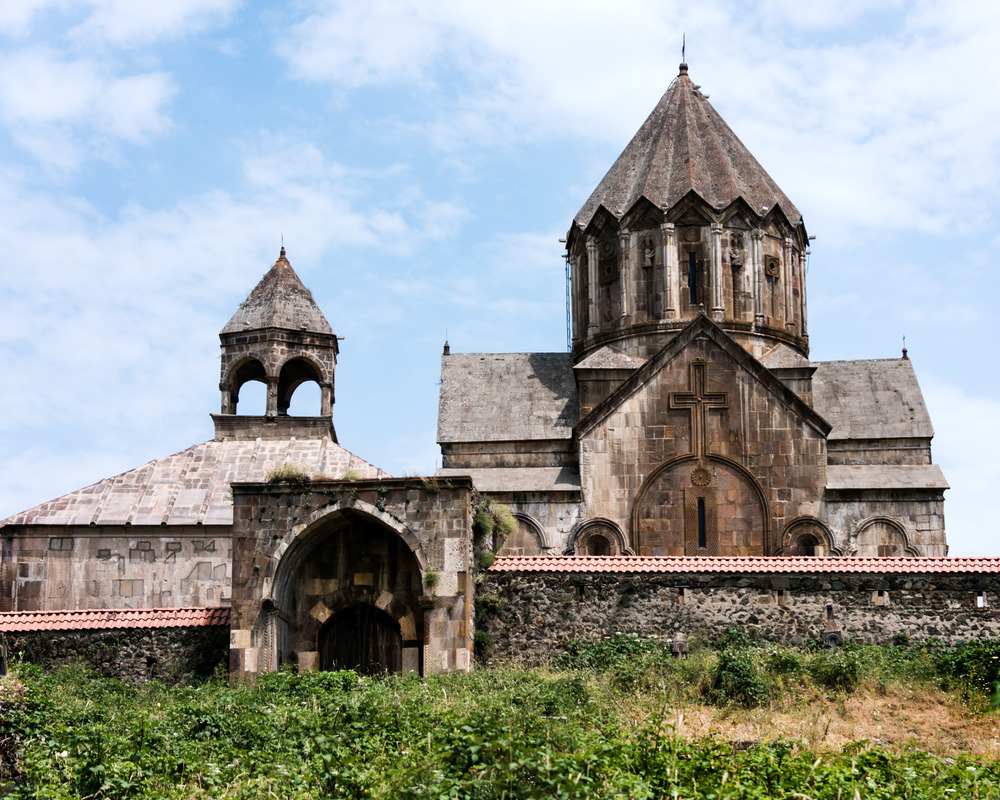 Day 6: Stepanakert → Goris
Sites on day six include the Umbrella Falls, Tiger Cave, Shushi Cliffs, and Goris. Hover on each photo for more information on desktop site.
Umbrella Falls
Enjoy stunning natural beauty and a nice hike in Honut Canyon. follow the trail down to the Umbrella Falls, where you can cool off, and see the canyon from a new perspective.
Tiger Cave
A natural cave, enhanced to delight children, sits beside the Sea Stone Restaurant where you can order the local specialty zhengalov hatz. Sit in the outdoor cafe and watch as the flatbread stuffed with local butter and mountain herbs is prepared to your order and served with locally grown tomatoes and cucumber and artisan cheese. A glass of the daily fruit water, herbal tea, or local beer makes a refreshing break after a day of hiking and exploring Honut Canyon.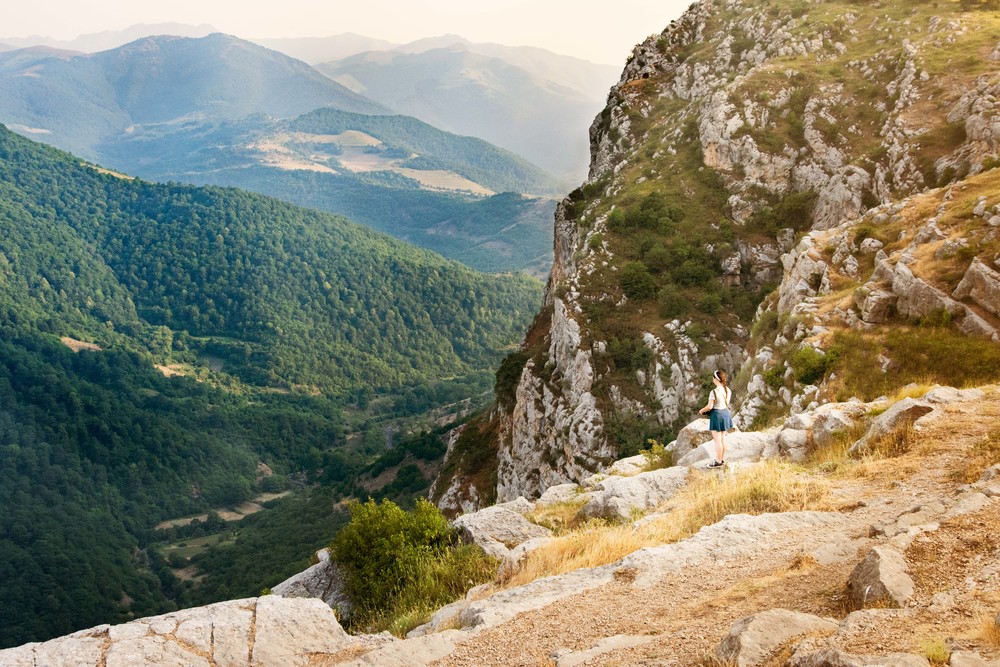 Cliffs of Shushi
Look down on Stepanakert from the cliffs of Shushi, the historical capital city of Nagorno Karabakh. Though the city was largely destroyed in the War for Independence, it is being restored and is an amazing place to experience history, as it was one of the major cities on the Silk Road. The cliffs are a beautiful place to have a picnic, or watch the sun set.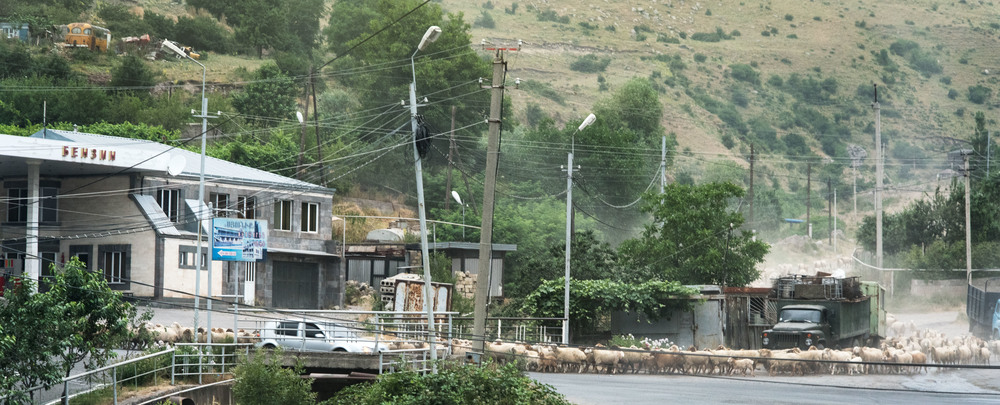 Goris
Spend the night in Goris, one of Armenia's many citites. In a classic Armenian scene, you may see the rural mix with urban as a shepherd leads his flock down from the hills, trucks carry supplies into the city, and people wait for the sheep as they drive to work.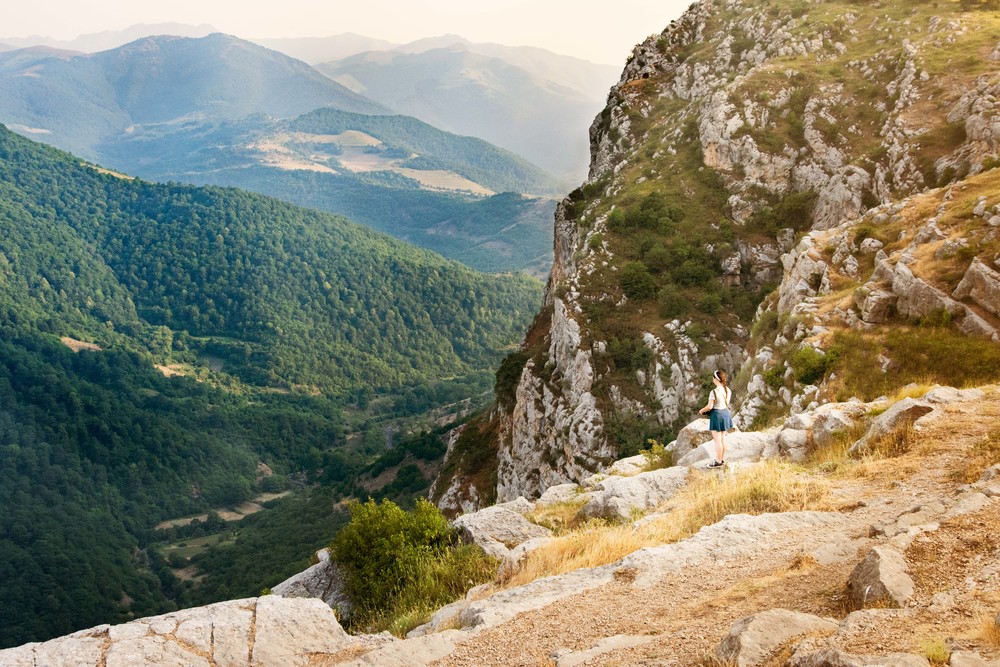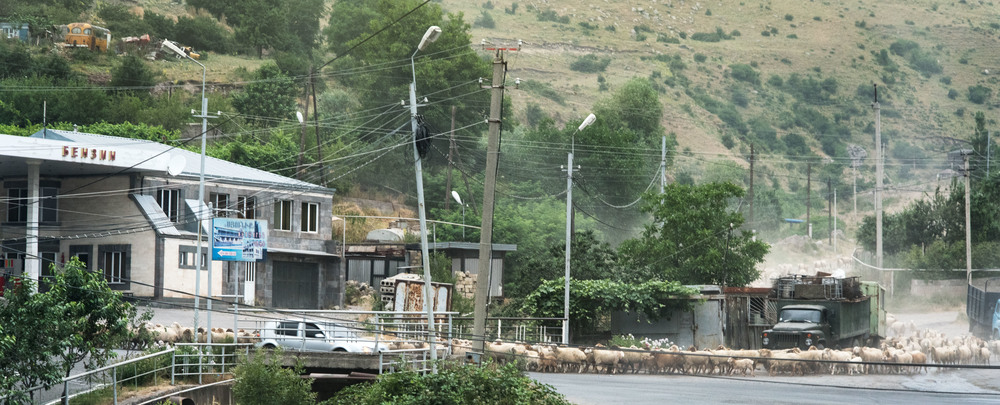 Day 7: Goris → Yerevan
Sites include Karahunj, Noravank Monastery, Areni Wine Country, Khor Virap Monastery, and Yerevan at night. Hover on each photo for more information on desktop site.
Goris
The sun rises over Goris on our last day in Armenia.
Karahunj
Visit the world's oldest observatory at Karahunj, or the "Armenian Stonehenge." These 7,500 year old ruins lie on the rocky promontory of a sweeping plateau overlooking the Dar River canyon. On this wind-swept site with a view of the mountains, the graves of ancient folk lie open to view. Research continues into the possible uses of the site, but the existence of a prehistoric necropolis seems certain.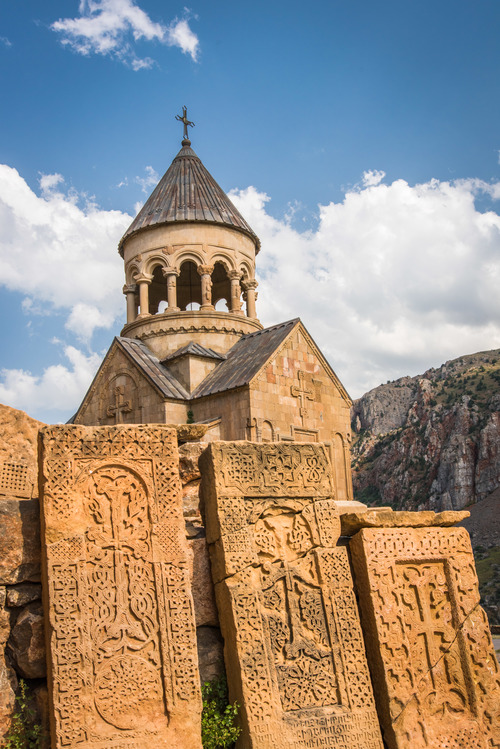 Noravank Monastery
Noravank Monastery, or "New Monastery," dates from the 13th century, with a collection of beautiful kachkars and various ruins to see along with the restored chapels. The site on the Amaghu River gorge, with its red cliffs in the background, is particularly beautiful.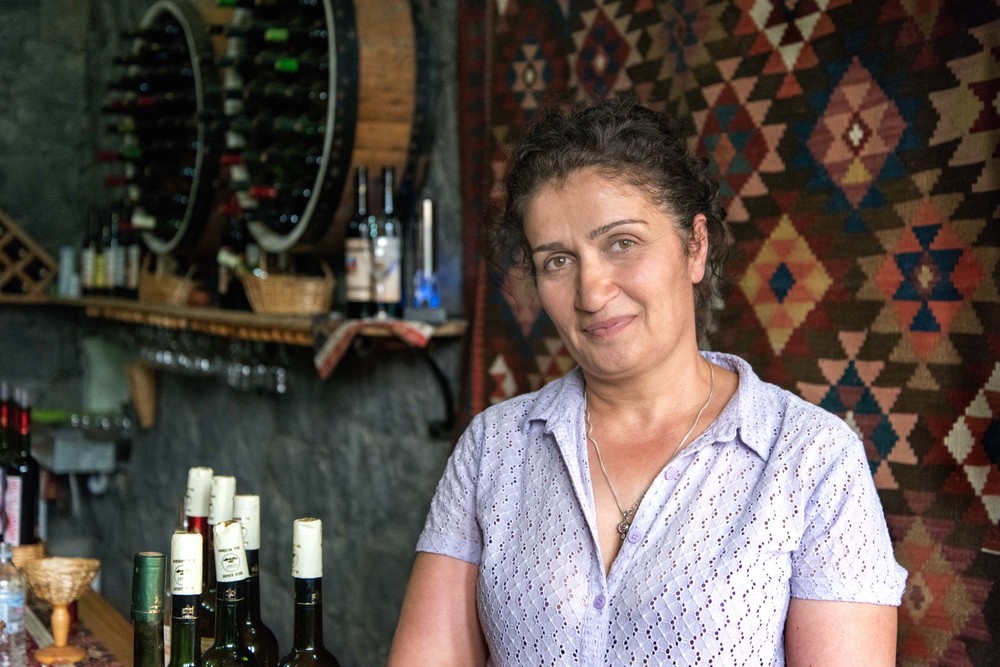 Areni Winery
With the world's oldest winery dating to 3000-3500 BC discovered at Areni, Armenian wines are have the sophisticated flavors of centuries of wine-making behind them. Be sure to stop in the tasting rooms, then buy some for your picnic. Read More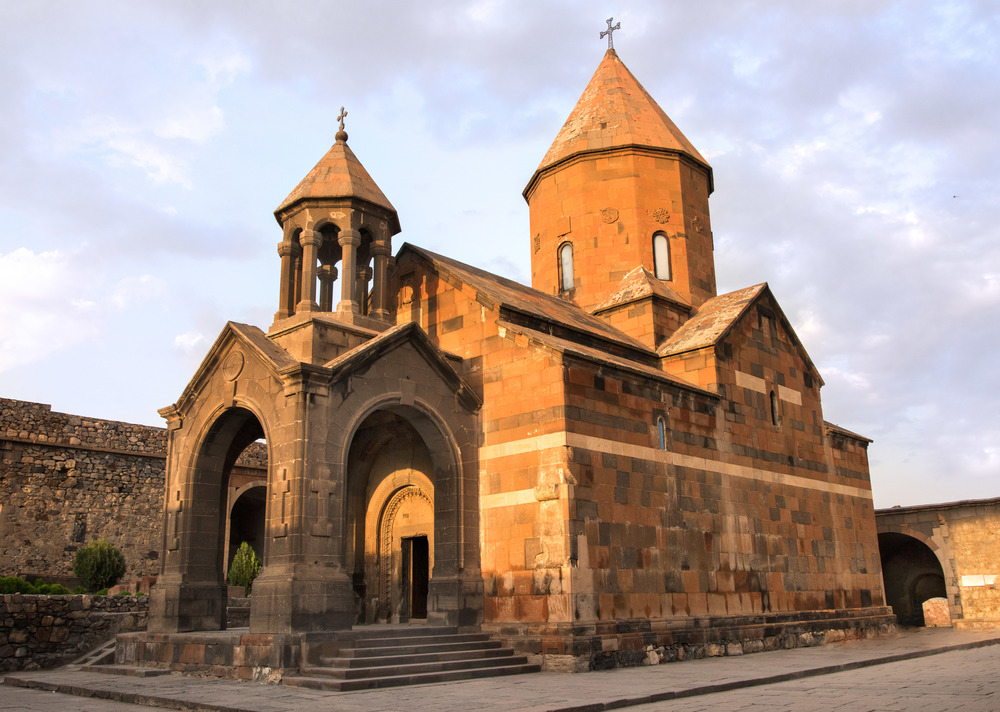 Khor Virap Monastery
Khor Virap Monastery is famous in Armenia as the place where St. Gregory was imprisoned for 13 years by King Tiridates III, before St. Gregory performed a miracle and converted the king to Christianity, making Armenia the world's first Christian nation in 301 AD. It also has the best views of Mt. Ararat, the mountain where Noah's Ark is said to have landed. It is the most famous symbol of Armenia, though it lies across the border with Turkey since the Genocide of 1915.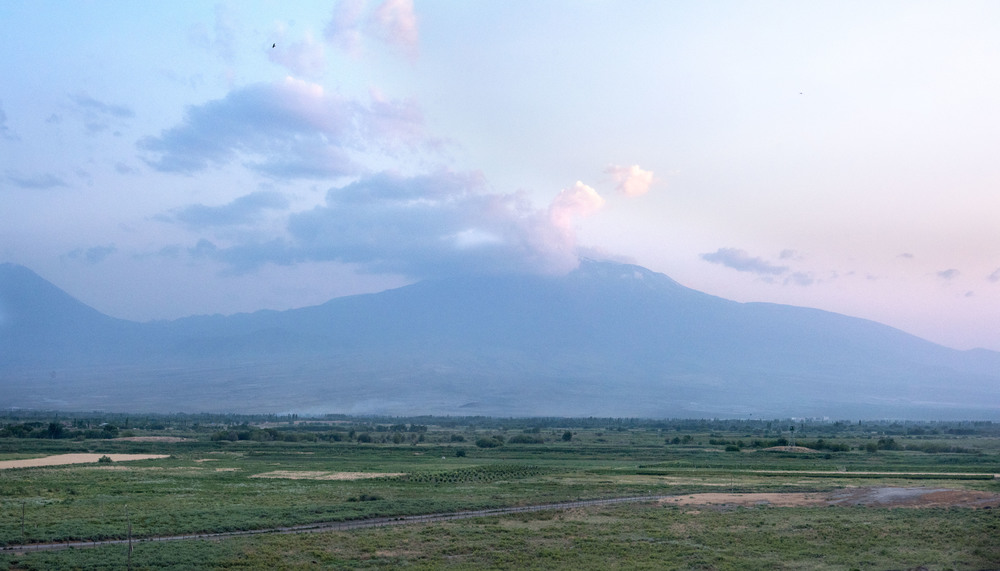 Sunset over Mt. Ararat
The sun sets on holy Mt. Ararat. Western Armenia became a part of modern Turkey during the imperialist expansion of the Ottoman Empire, dispossessing the people who had lived there for millennia. Turkey made this permanent during the Armenian Genocide of 1915. Turkey has blockaded Armenia since its modern incarnation. Though the border remains closed, our hearts remain open to love and the future.
Republic Square, Yerevan
Enjoy Republic Square, Yerevan's largest plaza, which is always bustling with locals and tourists watching the fountain, light and music show every night. Pick up an ice cream cone at one of the nearby stands, and take a moment to relax on your last night in Armenia.
Parvana
If you have a 4:45 am flight like we did, why bother sleeping? Instead go and dance your last night away at Parvana, a family-friendly restaurant with a dance floor in the center, where you can enjoy live music and DJs while you eat excellent food, and try your hand at traditional Armenian dancing.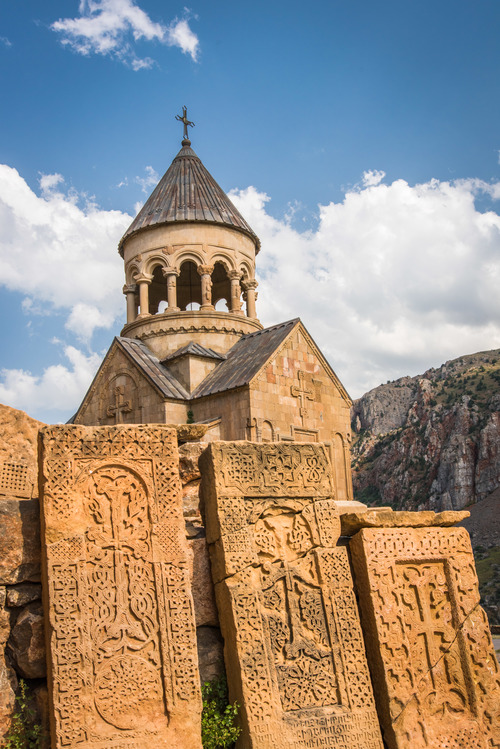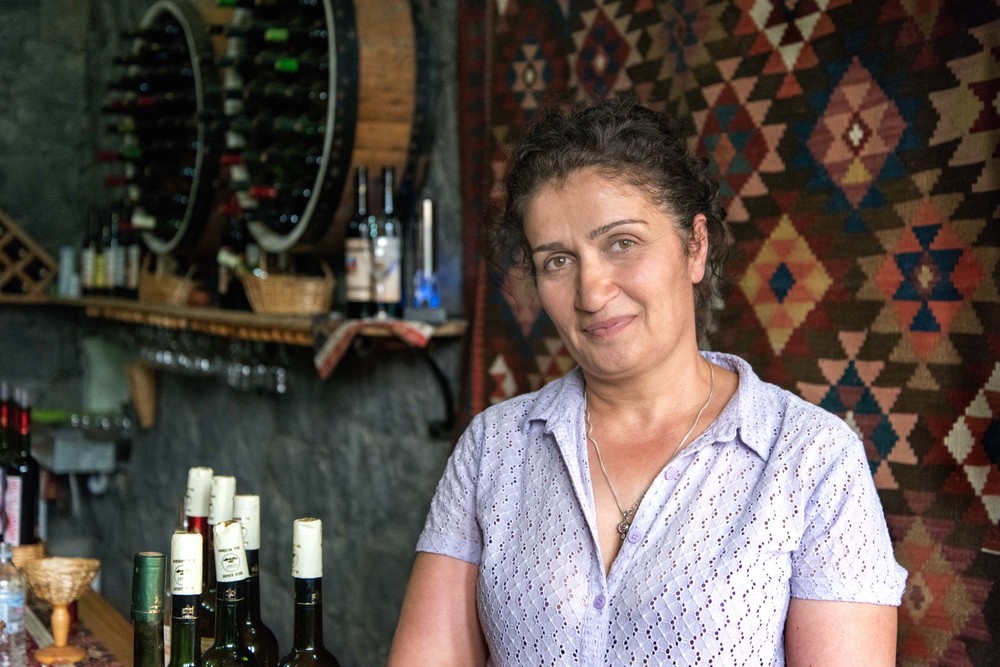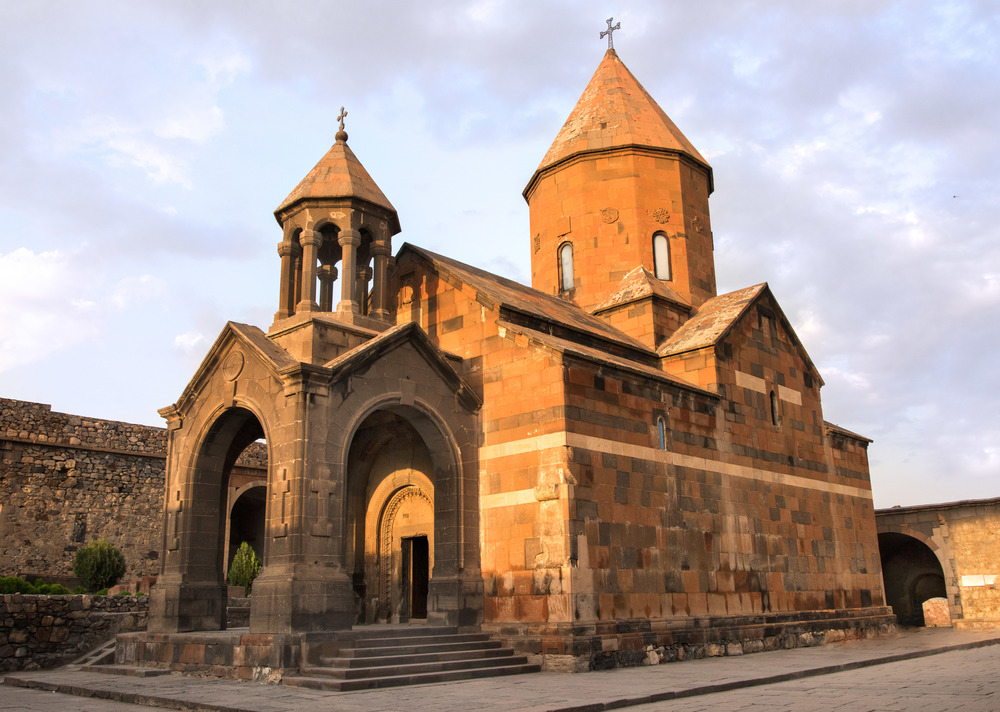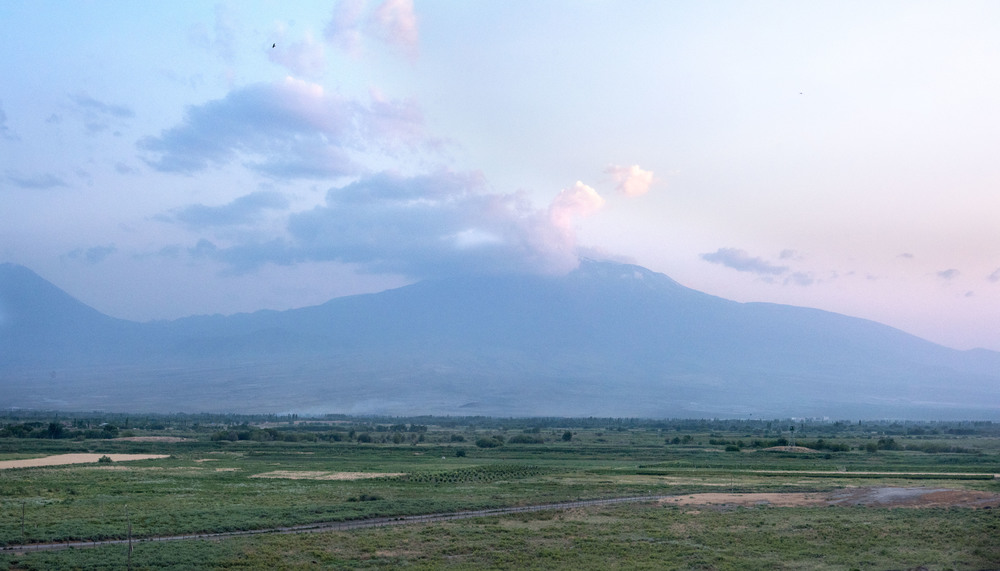 Adventure, Adventure Travel, Armenia, Caucasus, Christian, Castle, Eurasia, Fortress, History, Medieval, Sightseeing, Travel, Vacation
Kristin Cass
Armenia, armenia travel, Caucasus, churches, castle, christian, prehistoric, archaeology, adventure travel, fortress, georgia, history, russia, mountains, medieval, Off the beaten path, post soviet, sightseeing, Travel, turkey